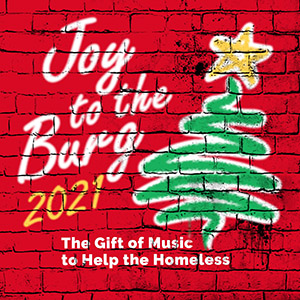 Joy to the Burg
The Gift of Music to Help the Homeless
In 2019, Sheldon Jones created, organize, and managed Joy to the Burg – a unique project where Harrisburg area musicians united to collaborate with Christian Churches United and provide vital assistance to the homeless community. As many as 19 bands and musical groups each record a Christmas song for an album (CD, download cards and online sales) which is sold to the community with the proceeds going to the homeless ministries of CCU
The 2019 Joy to the Burg was a significant success in raising nearly $24,000 from album and concert ticket sales. Because all expenses (recording, concert venue, copyright, etc.) were covered by corporate, foundation and personal donations, 100% of the revenues went directly toward assisting the homeless. In addition, the funds we raised made it possible for CCU to address an emergency need and establish and open a new shelter for homeless women.
In 2020, Joy to the Burg announced that despite the challenges of the pandemic and struggling economy, the project raised more than $30,000 through album sales and donations which will be totally donated to benefit the homeless in the Harrisburg area. The program in 2021 continued with 18 bands and sold numerous albums. The total raised for the homeless through the first three years was over $90,000. In 2022, Sheldon stepped into the "Founder" roll and allowed "new blood" to take control of day-to-day operations. Loco Lobo enjoyed performing in the Joy to the Burg Live concert. The funds raised by Joy to the Burg go a long way in helping people in need this winter and beyond, including CCU's winter walk-in shelters for women and for men, long-term housing for men who were homeless at Susquehanna Harbor Safe Haven, and workers on the streets of Harrisburg to assist people obtain urgent help as well as long-term housing.
Colourworks
Album Cover Design
Arsenal Mediaworks
Shooting & Production of Old Man, Who You Were in High School, and My Barefoot Shelley videos.
Wesley Pickle at AMPRO & Eyeland Graphics
Lobo Loco design support.